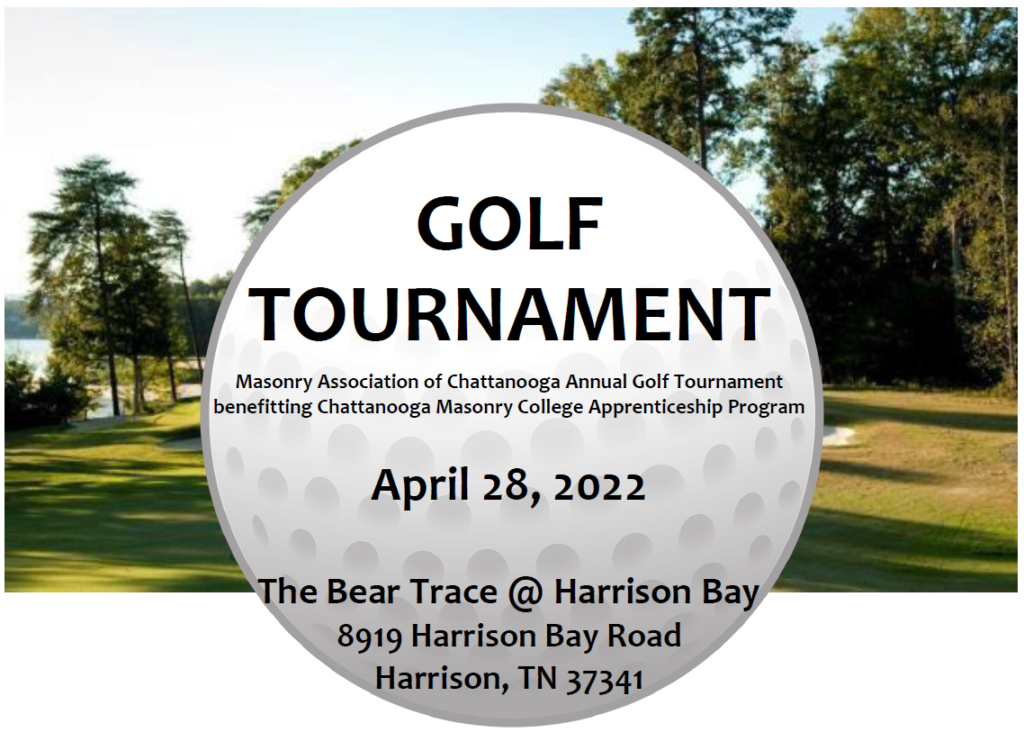 Applications can also be e-mailed to:
Michael Wilson: m.wilson@gp-masonry.com
Aaron Compton: acompton@brandsafway.com
Andrew Jenkins: ajenkins@jenkinsmasonryinc.com
Rob Bentley: rhbentley@ttwilsonco.com
Angela Favaloro: angela@libertybrick.com
Team Spots are full. We thank everybody for their participation.
*Please turn in forms with team member names ASAP*
Acme Block & Brick
Acme Brick Tile & Stone
Adams Masonry
Adams Masonry
Argos USA
Athens Insurance
BrandSafway
Buzzi Unicem
DBS Corporation
Fulmer Concrete
G & P Masonry
Hoar Construction
Hoar Construction
Horizon Stone
Jenkins Masonry
Josh Tollett Masonry
Liberty Brick
Majestic Stone
Mid-South Equipment
Middle TN Masonry Association
Modus Builds LLC
SRM Concrete
Quikrete/Spec-Mix
Stowers/JAT
TT Wilson
TT Wilson
Tennessee Equipment Services LLC
T.U. Parks
United Rentals
Wire Bond
We want to thank all of our sponsors and hole sponsors for this years tournament!
Lunch Sponsor: Roger Wallen of Mid-South Equipment
Beverage Sponsor: Acme Brick Tile & Stone

Platinum Level Sponsor: Horizon Stone
Gold Level Sponsor: Acme Brick Tile & Stone
Silver Level Sponsor: General Shale Brick
Bronze Level Sponsor: Liberty Brick

Golf Balls provided by SRM Concrete
Golf Bags provided by Acme Brick Tile & Stone
Golf Towels provided by Horizon Stone
Beverage Carts provided by United Rentals & Mashburn Equipment
Acme Block & Brick
Acme Brick Tile & Stone
Adams Masonry
AGC of East TN
Argos USA
Athens Insurance
BrandSafway
Buzzi Unicem
Cherokee Construction
DBS Corporation
Ez Scaffold
EZG Manu
Fulmer Concrete
General Shale
G & P Masonry
Horizon Stone
Integrated Builds
J & J Contractors
JCB
Jenkins Masonry
Josh Tollett Masonry
Kennison Forest Products
Laticrete
Liberty Brick
Majestic Stone
Masonry Specialist Corp
Middle TN Masonry Association
National Cement
P & C Construction
Robert Roberts, LLC
Spec-Mix/Quikrete
SRM Concrete
Stalite Lightweight Aggregate
Tennessee Equipment Services
TU Parks
TT Wilson
Valley Stone Inc.
Vega Corp of TN
Wilson Construction
WireBond